Carroll Gardens
Across the East Estuary (better known, perhaps, as the East River), is another world, still technically New York City, but very different from Manhattan.  I took a fascinating walk in the Carroll Gardens section of Brooklyn recently and explored a neighborhood that was once virtually all-Italian.
Buildings aren't as tall in this part of Brooklyn as they are in Manhattan, which lends the area a much more human scale:
I passed a shrine to Saint Lucy — a whole corner of New York real estate devoted neither to commerce nor to housing!  Dorothy, you're not in Manhattan any more!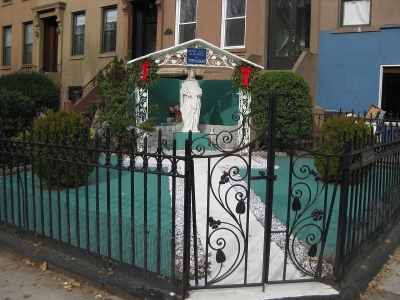 Much of the neighborhood is classic, gritty city,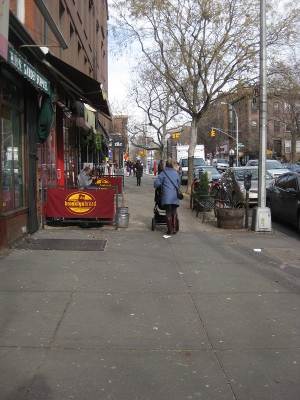 but the sidewalks are broad, and not nearly as crowded as in Manhattan.  (Note the trees, growing in Brooklyn.)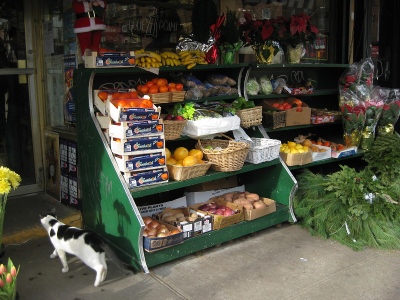 There's a grocery, complete with cat (it's New York; you only worry if it's a rodent, and sometimes not even then)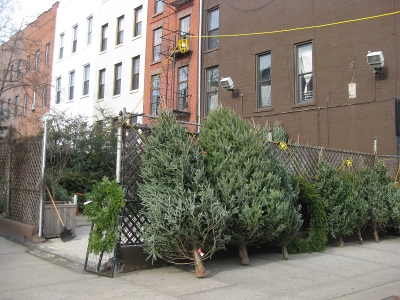 Christmas trees for sale next to a corner store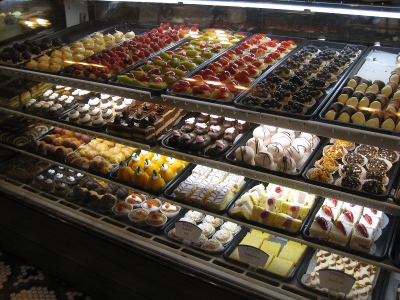 and an amazing Italian bakery.
On the same few blocks are old furniture stores, consignment shops, a dentist, a beauty shop, a general store, and more.  It's the older institutions that caught my eye, and ended up in my camera's lens.
But this is a changing neighborhood, and I spotted this beauty, too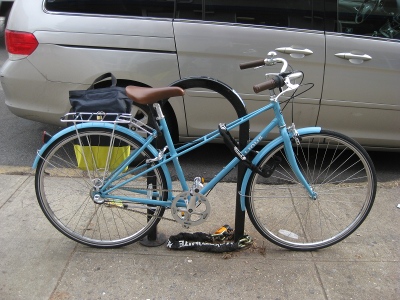 It's a gorgeous Linus bicycle, with a serious modern pannier.  (No, I don't have any idea why that huge, expensive, lock is draped over the bike rack, securing nothing but itself.  Perhaps the owner doesn't want to haul twenty pounds of metal back and forth, and so stores the lock on the street?)  This beauty — a sky blue mixte — is a sign of things to come in this neighborhood.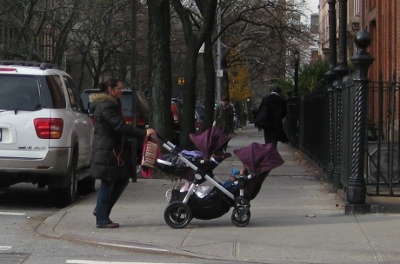 Nearby was some kind of infant recreation center/baby goods store with many thousands of dollars worth of high-end (we're talking $600 dollars and up — mostly up) parked in the front rooms.  (One of the cheaper ones, above, a steal at roughly $700 for two seats.)  Further along the street are hipster, up-scale restaurants.  This is a changing neighborhood, at its most perfect moment, balanced between old and new.
Sadly, Basil did not accompany me on this excursion, although I was in the city to get him serviced. Neither Manhattan nor Brooklyn are  my home turf, and I'm still not brave enough to ride on city streets with Basil, though I've happily ridden the Greenways.