The Cue Clip
I use these clips for cue sheets or directions, but I'm not very fond of them.  Cue sheets are a bit more problematic on a Brompton bicycle than they are on bikes that have bags right up at handlebar level.  I end up propping the cue sheet against the cables, and then tacking them in place with these clips.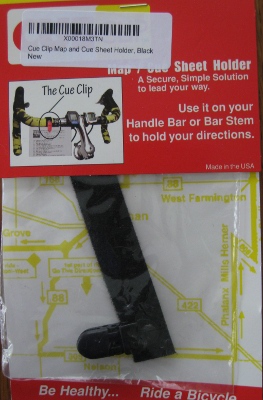 I want to love these, but I don't. On the plus side, they're easy to attach and remove, since they're held in place with hook-and-loop fasteners.  The profile is small; even if I leave them on all the time, they don't get in the way of anything.  The clips have a positive lock; they snap into place, so there's no confusion about whether or not they've clamped properly.
The negative is huge, though:  Even a cue sheet folded so that the equivalent thickness of  four sheets of paper is stuffed into the jaws, the clips still cannot be trusted to hold the sheet in place. I've had to repeatedly stop and retrieve a cue sheet that fluttered off. That's annoying:  The clips must only do one thing, and they don't do it reliably.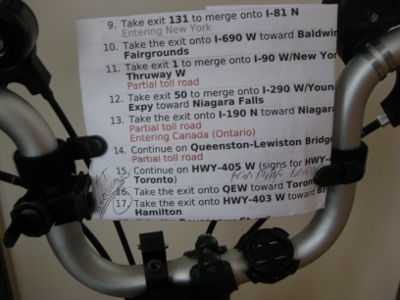 And there's this:  I use two, because one is completely useless.  At around $8 USD, these aren't cheap. (Though I probably got the first one at an expo for much less.) I'm using this mostly for grocery lists.  If the list falls in the store, it's easy to pick it up.
I've not yet found anything better, which is even more annoying.  These work most of the time (when the wind cooperates?), so I'm still using them, but they aren't the answer I'd like.
Yeah, those are driving directions to Toronto; I  couldn't get my hands on a cue sheet quickly, but, you know, it's all paper!