A Brace of Bromptons
Basil's good friend and champion (and frequent commenter) Saul has been keeping a sharp eye out for Basil's kind whilst Basil himself languishes in his closet.  Saul encountered this beautiful pair of Brompton bicycles (and their happy cyclists) on Kelly Drive Martin Luther King Junior Drive in Philadelphia recently: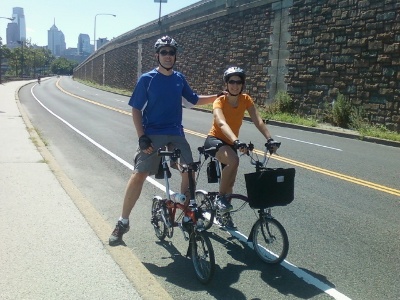 They kindly agreed to pose , and I have to say that this is a marvelous picture — inspirational, even!   (Is it possible to have a bad time when riding a Brompton???)  Today's guests are riding M6L Bromptons with rack sacks on the back, and the capacious Brompton basket on the right.
Thanks, Saul — and thanks, too, to these Brompton cyclists.  One day Basil and I may meet them ourselves — in the meantime, we're thrilled to know that Basil's cousins are out and about where Basil once rode, and will again.
(This post marks the advent of a new category:  the rather boringly-named "Brompton-Spotting".  It's been survival mode around the Diarist household for months now, and creativity is running low — though I reserve the right to rename the category should something more enticing occur to me . . .  )
*************
In other news, Basil and I have had The Talk.  We don't like it, but we're OK.  As feasible, Basil will have the occasional outing, even if it's not possible for the Diarist to actually ride him.  We must do what we must do.  We're best buddies; a little bit of temporary bad luck thrown our way won't change that!