And Basil's, too, this year, now that I can ride again.  This was meant to be just a short ride, to see what kind of shape I was in after not cycling for so long.  I figured 5 miles/8 km would be enough for this initial run.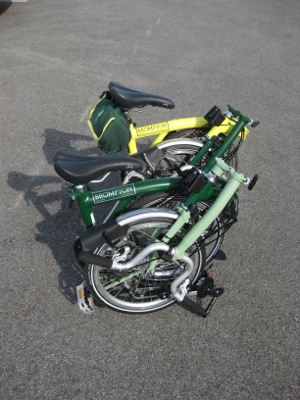 There was no way to ride where we live — too much snow, no place to put it — so we drove out to a trailhead.  That's Argyll, in front, and Basil behind him, in the parking lot.
We stopped after roughly 5 miles/8 km and got a bite to eat.  Our Bromptons are small enough that we didn't fold them all the way while we ate; the aisle was wide, and there wasn't any need to.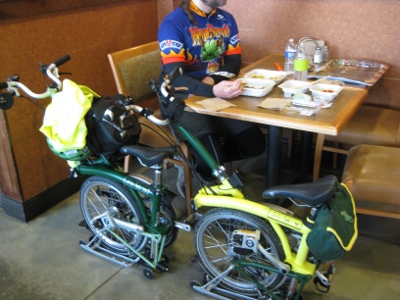 This image below is a documentary shot; the light's too low, but there's an important question that needs raising here:  We noticed that our Bromptons automatically rolled to a stop next to the beer.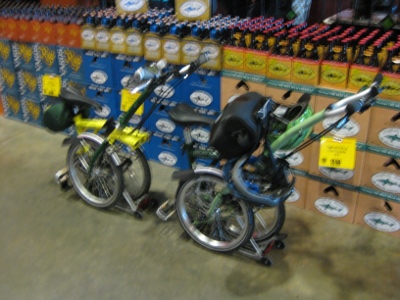 Is this just something that naturally occurs when two or more Bromptons gather? I don't even drink the stuff, but maybe Basil's trying to tell me something, now that he's got reinforcements.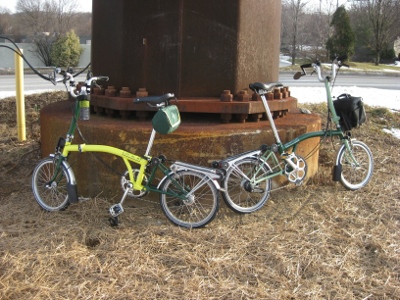 I'd thought that a short ride would be all I could manage, but it was so wonderful to be back on Basil that I just couldn't stop.  We carried on to the end of the newly-opened extension to the Chester Valley Trail, which suddenly ends in King of Prussia, next to a small construction site.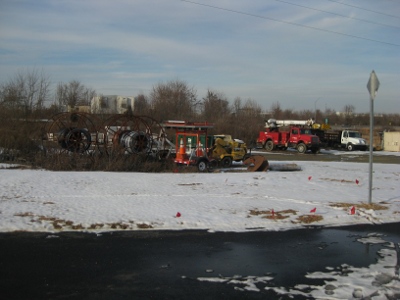 It's not picturesque, but I'm not complaining.  I suspect this lot is what we've got to thank for the trail extension, which means that it's now possible to log over 20 miles/32 km by bicycle, round-trip, from King of Prussia** to Exton (or visa-versa), on the trail.  That's a terrific development!
Dr. Diarist and I (and our Bromptons) logged 22 miles/35.4 km this trip.  That wasn't the best thing for Dr. D, who isn't yet used to his Brompton saddle*, but it felt like sheer bliss to me!  That 5 mile/8 km goal turned out to be piffle!
*Dr. Diarist isn't used to any saddle; he's a mountain biker.  This is a whole new world for him.  Fortunately, he seems to be adjusting well, and Argyll?  Argyll's perfection . . . naturally!
**Yes, there really is a town in Pennsylvania called King of Prussia.  Go figure.