Basil's Gear Caddy
Basil is currently sharing his closet with a trolley that holds his basic maintenance gear and whatever gear I need to make a quick escape out the door with him.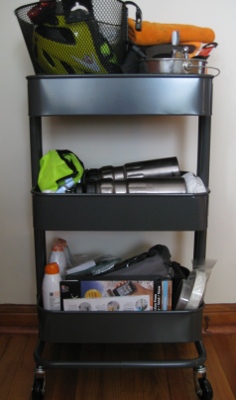 The cart is called RÅSKOG, and it's sold by Ikea.  It's solid and strong, and just $50 (USD).  That's a bit high for an IKEA cart, in my opinion, but it's also far better made than a lot of IKEA stuff. The trays are strong, there's no wobble at all, and the casters are excellent.  I'm not using them, but two of the casters  have brakes, which would be very convenient in other circumstances.
Basil's closet is narrow, but deep, and this trolley fits perfectly beside him, giving me quick access to the tools I need to do a quick post-ride cleaning, and also a convenient place to drop the helmet, gloves, and vest I'm currently wearing while riding.  I'm quite happy with it, and think a second one might be a good choice for the basement, next to a Park Tool bike stand.