The Worst Is Yet to Come: Basil Doesn't Know
Back on July 14 — exactly a month ago — I noted that I'd had a small surgery, and that there had been complications.  Incredibly, there have been yet further complications, with far-reaching effects.  It will be mid-February or early March 2014 before Basil and I will be cycling together again.  (And it's already been over six weeks since we've had any sort of ride to speak of!)
This is a pretty devastating state of affairs, and I'm not sure that I've even yet fully realized the impact this ban will have on me and my quality of life, particularly since, you know, "quality of life" = Brompton!  I depend on Basil not only for all the healthful physical benefits of cycling, but also the vast positive psychological benefits that come from traveling through the world on small wheels.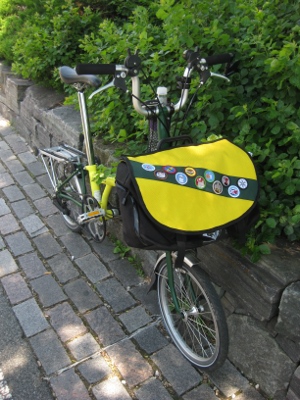 [Basil, in happier times, running wild and free on NYC's West Side Greenway]
This will mean a few changes for the blog, too.  For over nine months I've written a blog post here every single day.  Sometimes it's been a bit of a stretch to make the quota, but as long as Basil and I were riding regularly, there was plenty to write about and discuss.  There will still be much Brompton- and Basil-related to write about, but I expect that post frequency will probably drop down to two or three a week until we're back on the road, trail, or street again.
There are posts in the works — that new bag of Basil's that I haven't been able to finish yet; some interesting ideas about how to carry a B; Basil's Park Tool stand that I bought just before this debacle began — and now that I am [mostly] through treatment, I'll be able to get back to those topics and explore others.
In the meantime, I've got to break the news to Basil.  He still thinks this hiatus is temporary, and I've been too cowardly to explain otherwise.  Also, this is just so wrong:  Bromptons are meant to be active!
I'm hoping that Basil will accept that this will give me some time to get to know his workings more thoroughly, and to develop a deeper appreciation of all of the technical things that make him a Brompton.  When we were riding all the time, there simply weren't enough hours to do that, too — this is our chance.  I'm hoping he sees this as a silver lining. It's all we've got, so I'm going with that as the modus operandi for surviving the next half-year or so.