Do You Coffeeneur?
MG, of chasing mailboxes d. c., is the creator of a new cycling sport called "Coffeeneuring".   There are rules — and technically speaking, there are winners — but it's really just for fun.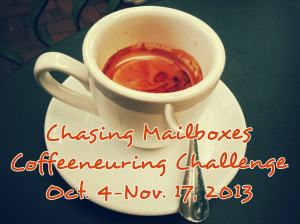 This year's rules accommodate the unusual situation on MG's home turf, where clowns reign and there's a consequent government shutdown.  You can read all about them — the rules, not the clowns — here.  The idea is to cycle for coffee, or a different hot  beverage, to seven different coffee shops, over the course of seven weeks. (Two qualifying trips allowed per week.) This is a weekend endeavour, but loopholes exist, for specific circumstances.
This is the third year for Coffeeneuring; Basil and I haven't done this particular challenge, but MG also devised the spring Errandonnee, in which Basil and I enthusiastically participated last March, and which is recorded here and here.  We rode at night for the first time ever as a result of the Errandonnee; who knows how you'll be challenged?
* Edited, per MG's comment, for clarity. It's not too late to start!